So, as you might recall from my previous post I had some time to kill and Petra and I went to see Jan at his workplace - The Jože Pučnik Airport. Damn, that's a bad name, I'll stop it now... we went to Brnik. I wanted to test flash & sunset with fast shutter synchronization. Needless to say, it didn't work the way I wanted it to, but on the other hand I'm not sure what I wanted :). I thing a reflector screen would be better. More natural light...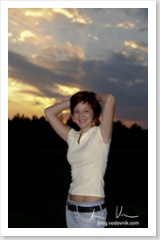 The picture to me, looks fake. The lightning on Petra is too perfect, IMHO. Well, will have to try one with a reflector screen. Spanking of which, anyone have any good recommendations for it?
Anyway, these pictures were taken in the near by corn field :), I just wanted a series titled "Na koruzi s Petro" :).
I'm really bothered by the overlay on the first image over Petra's mouth. Will have to do better next time I gather.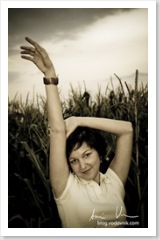 Comments welcomed!