I'm so far behind with posting that it's a shame :). I have a lot of interesting stuff I want to post, including a shoot I did recently with a friend.
Anyway, I'll start somewhere in the middle, with Capris's open air concert in Koper. Radio Capris organized their annual concert, this time, at a rather unusual spot, besides the Bonifika sporting center. We were able to see bands like Noom8, HeaveniX, Sons, Rudi Bučar, Tabu, Dan D, Vlado Kreslin, and headliners Siddharta. The concert would be just as good, if not better, if it stopped with Vlado Kreslin. Anyway, the event was fantastic, the organization was great.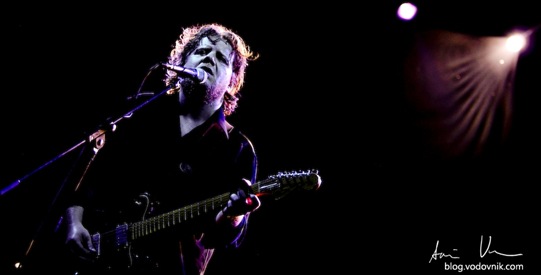 I arrived a bit later in the day, and came just in time to  see Rudi Bučar. Although fairly unknown, in my opinion he is one of the top Slovenian musicians. Besides his solo carrier he's also fairly "visible" as Jan Plestenjak's back vocalist. Anyway, I've had the privilege of hearing the songs he played and some he didn't yet on a special occasion and what I really liked was the feeling he gave into the songs and the lyrics. This definitely shows in his attitude on stage. If only I understood Italian ;). Besides the stated, he also has a very good crew behind him.
After Rudi, we saw Tabu. Interesting story with this band :) -- to make it short, every time I hear them perform, I think they've improved. Although, interestingly, I've seen a couple shows recently where Marjan was missing on the acoustic guitar. The performance was great, Tina is as energetic as ever and with all that bouncing around we (the photographers), had a hard time capturing everything we wanted to :-).
Next step, Dan-D. Unfortunately we witnessed more or less the same set-list we always do with them, but the performance was excellent, and the crowd grew ever more excited. Especially with the single that launched them in the "main-stream" of popularity, Voda.
Next step was Vlado Kreslin, the legend. Adored by everybody, and a treat to listen to, he never gets old.
Last, and as far as I'm concerned, least, came Siddharta. The only band who's crew was as big as the crew of all the other bands combined (including the performers themselves). Also the only band that permitted only 3 songs to be photographed. I won't post any pictures of Siddharta directly, only what's below (in a different context) because I refuse to, especially after what happened to me a couple of years ago (same thing happened to Matic Zorman at Rock Otočec 2008 more recently). The arrogance of their crew is beyond limit and we (and the regular media) should stop supporting it.
I also tried capturing the game of light that went on behind the front-men on stage.
P.S.: Also present on the concert were two of my friends, Petra and Miha who both have excellent galleries of the event. I also highly recommend the photo story posted by the crew of Radio Capris, available here.