Originally, I thought I'll be photographing Judas Priest down in Zagreb. However, Glenn Tipton got sick (I think his appendix was the culprit). Thankfully, I got a chance of photographing Status Quo.
Admittedly, before the concert, I didn't know a lot about them, I just knew a couple of their legendary songs like In the army now, Rockin' all over the world and Whatever you want. I'm a fan now :).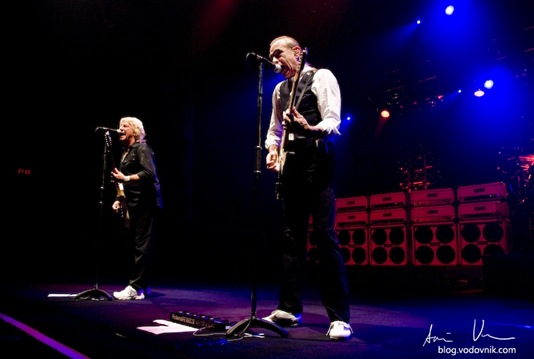 The night started with Leaf Fat. The Slovenian punk/metal/rock/emo-something group was "hand-picked" by the management of the band and/or the band themselves. Why, is beyond me. I think that they have totally opposite styles of music. Leaf-fat is based on hard and heavy riffs with lots of low-end (bass) and hard-to-understand screaming vocals. Status Quo on the other hand has a much more melodic, riff-based, approach with meaningful and understandable lyrics. This is not to say that Leaf-far are not good, I just think that they were incompatible with the audience and it showed. Still, they gave a lot, and it was a valid effort, but it was more like flocking a dead horse.
After Leaf-fat, we went out to get some fresh air (the temperature inside was a steaming 29°C). The time passed really quickly as it always does in good company (as Jure already pointed out in his blog) :-).