After two days exploring Copenhagen we can safely say we like the city a lot. We've visited the major tourist attractions, walked the shopping streets, Tivoli gardens, took the metro, bus and train, visited the ZOO…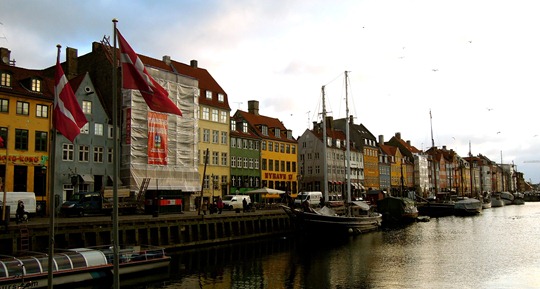 One interesting thing that struck us as interesting is that everybody speaks fluent English here. It's a funny thing to be amazed with, but having stayed at hotels where the maids don't even speak the country's language (e.g. Germany), being able to talk to basically everyone (maids included), young or old, is a refreshing change.
We'll start this post with the gorgeous view we have from our hotel room. It's not the best of views, true, but for these parts it's not bad at all

After scouring the various Copenhagen websites (e.g. VisitCopenhagen.com and LonelyPlanet.com and TripAdvisor.com) we've settled on a few locations we wanted to visit, such as the Little Mermaid, Nyhavn, Tivoli Gardens, Rosenborg Castle, the changing of the guards, Carlsberg and the ZOO. It was a pretty tough challenge that involved a lot of walking, but we pushed ourselves, and gave it our all.
After the first day we went on a very short car trip to the near town of Dragor (just south of Copenhagen). It's a small, sea-side village, really, but it felt interestingly cosy.
The next day we had two major goals, the ZOO and Tivoli gardens.
We finished the day at Build-a-bear, where we stuffed our own rabbit. It's now in a box that says it's going home. It's an awesome experience, and I'd love to take my nieces there – but the closest one is in Germany

. It's just awesome when the girl stuffing the bear tells you what you have to do to make it alive (e.g. rub the heart, kiss it before it goes inside, etc.).
After getting our fluff toy, we headed to the adjacent Hard Rock Café, to have dinner and drink cocktails – I love the Southern Rock cocktail btw, a mixture of Jack Daniel's, Southern Comfort and Vodka.
Tomorrow, it's New Year's Eve. We can't wait. We'll post the pictures next year though