So for this year*s New Year celebration, Romana and I decided to go to Copenhagen, Denmark. To go there, we started our trip in Klagenfurt and flew to Hamburg where we rented a car and drove to Copenhagen. We'll continue posting updates here as each day passes.
Our journey starts in Klagenfurt, Austria. We boarded the Condor flight to Hamburg, at this really big and crowded airport.
We naturally arrived way to early so we had a lot of time to kill, unfortunately the airport didn't really provide any sensible mean of entertainment other than free wi-fi. Also, there were absolutely no English magazines, books or anything similar in the Duty Free Shop if we can call it that.
The flight itself was also largely uneventful but it was really shaky. The airplane had a front facing camera which was turned on during takeoff and landing, giving us an interesting perspective on what goes on underneath the front wheels.
After we landed in Hamburg, we went straight to the hotel – free shuttle FTW. We didn't have any particular plans in Hamburg, although I did want to visit DESY once again after I interned there a couple years ago. Unfortunately, since it's also a public holiday "season" in Germany, my coworkers were out of the office at that time. So we went around to find the nearest McDonalds – unfortunately that was the only thing opened at that time (00:30). We finished the night with a movie and went to sleep.
The next morning we went to pick up our rental car from Sixt – which turned out to be an Audi A4. I wasn't all that impressed with the car – unlike the awesome BMW 1 Blaž and I were given those couple of years ago when we went to Legoland.
We decided, before leaving, to buy a small compact digital camera so I left my "big" Nikon at home. So instead of going to Copenhagen immediately after picking up the car, we drove around a bit – to the closest Media Markt. Given all the choices (FujiFilm X10, Cannon G12 and the smallest, Nikon P300) we kind of settled (reluctantly) on the Nikon because I didn't want a DSLR replacement (for 500+ EUR) but a compact camera (for 200 EUR).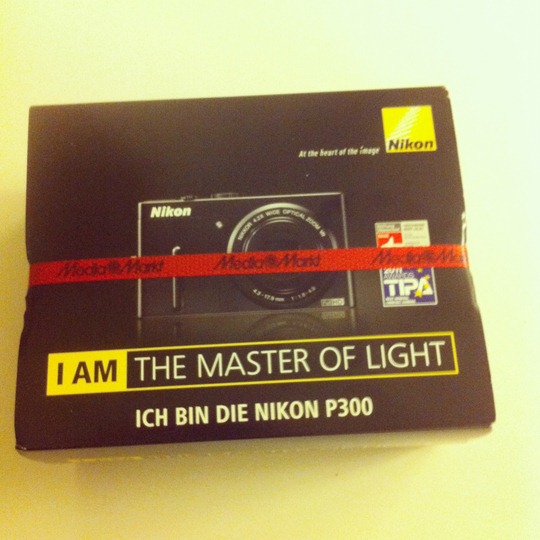 After the purchase we finally started the long drive to Copenhagen. After a few stops, and around 4 and a half hours, we arrived at the Copenhagen city center only to realize we had no address of the hotel written anywhere accessible. So, we searched around a bit, and finally managed to find it. We decided to call it a night with a Jack cola and a Gin tonic, a Caesar's Salad and Roasted Duck topped off with rice pudding with cranberry sauce,
The food was delicious and we fell asleep like babies after that.
The next day we intentionally got up a bit later and went for a "late day" walk across the city center.
I love the camera – just enough manual mode that I was happy playing with it (shutter priority

) although I'd really love RAW support, if it had it.
We planned tomorrow's day and we can't wait for it to start. Here's a late night shot from our hotel room. See you all tomorrow!
p.s.: Sorry for the gazillion variations of photo frames – it's a collage of photos from Instagram, iPhone and the Nikon. We promise to be more consistent, starting tomorrow