Guns'n'roses are a band that has pretty much cemented the image of what rock'n'roll is, and what it means to be a rocker. With Slash's iconic guitar stance, true love for Jack Daniel's whiskey and good guitar riffs they made history for 25 years. All of the band either quit or got fired, and the only remaining founding member is Axl Rose. The new band came to Zagreb yesterday. Read on past the break for more…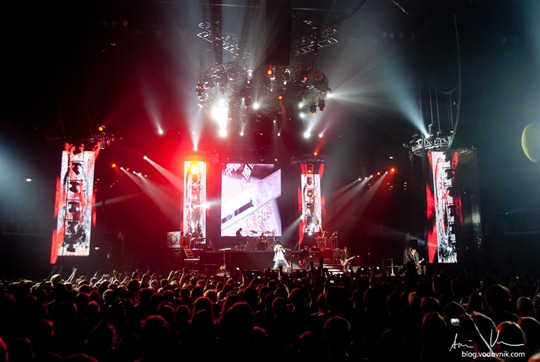 The new band is obviously absolutely nothing like the old one, but it does consist of some kick-ass musicians. One of them, DJ Ashba left is trying WAY too hard to mimic Slash. Unfortunately it gives the impression that the band is a tribute to the old GNR.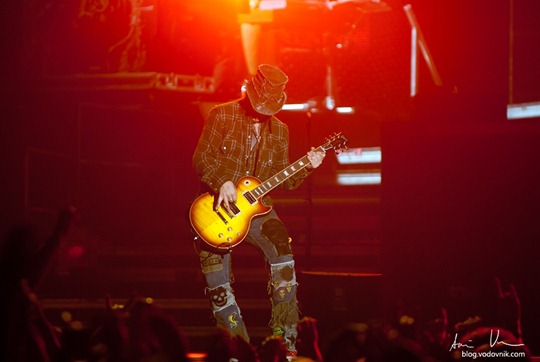 The show took a little less than 3 hours and consisted of 30 songs covering the whole lifespan of the GNR brand. Obviously it included the old hit singles like Paradise city, Sweet child o' mine, Welcome to the Jungle, Live and Let Die, Don't Cry, November Rain as well as new songs like Chinese Democracy, I.R.S. It also included some covers, like AC'/DC's Whole Lotta Rosie, and it included a lot of instrumental jams.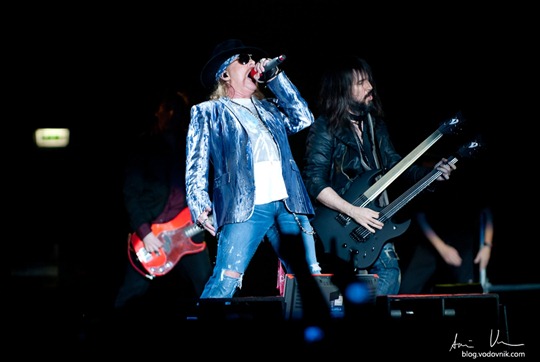 One of the guitarist (the one on the picture above, next to Axl) – Bumblefoot had a birthday that evening. From the moment he walked on stage he was drunk to the bone, and could barely walk. I am surprised he could even handle the normal electric guitar let alone the fretless half – he played several different guitars throughout the night, most of them were double neck where one neck was fretless. Really inspiring to see that, drunk or not.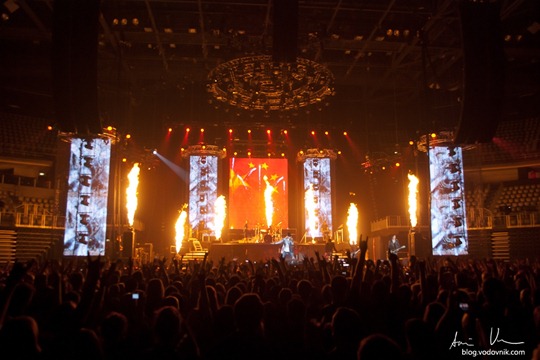 The show used a lot of pyro, flames and other effects. It started an hour late, supposedly due to Axl's health issues. He was feeling under the weather, he said on Twitter… Well, in any case, he left Belgrade on a private plane an hour before the concert's scheduled start which left a lot of us wondering when the concert will actually start. But it did start, and it was a fairly good concert. Not perfect, and not the best I've seen, but a good concert non the less.