A Croatian reporter wrote that if there is a god, his name is Bruce. There were signs in the audience, saying: "Bruce almighty". And I agree. Bruce & The E-street band rocked Udine's stage at Stadio Friuli.

I've been to some concerts in my life (young I may be, but still :) ), and this was by far the best one I've ever had the privilege of seeing. Although I was more excited for concerts like Mark Knopfler in Zagreb, and Muse, neither of the two shows can match up now.
Bruce and the band played for 3 hours straight, with only two stops. Both times they bowed to the crowd. They changed their set-list according to the crowd, and Bruce's interaction with the crowd was phenomenal. I've never seen anyone get so close to the people, reach out and touch their hands, grab their posters, signs, even play songs written on those posters…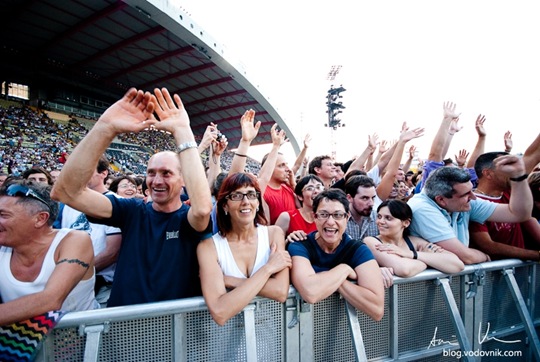 There were roughly 35.000 people in the audience, making it an interesting experience just because of that.
As you can see on this picture, he has a sign "Sherry Darling" that he pulled from the crowd when they were playing this song (this was the first song, btw).
Our photographing position was about 30 meters away, so without lenses like 400mm 2.8, and 300mm 2.8 (that a couple of our colleagues had), it was hard to capture any close-ups. But my trusty 70-200 2.8 did the trick like I hoped.
All in all, a phenomenal concert, an excellent experience, an awe-inspiring musician/group/performance, and some rocking good music. That, I think, summarizes Springsteen's concert.