The much anticipated, twice sold-out show (two dates were announced for Zagreb due to overwhelming interest) – over 120.000 tickets sold, is over. A bitter sweet experience for me personally (unfortunately), but besides that, an awesome spectacle. In my opinion though, not so much of a performance. Definitely nothing like Bruce Springsteen's show in Udine. Hit the read link for more pictures.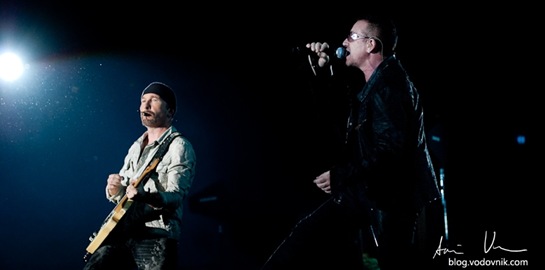 Probably however, this was one of the most elaborate shows I've seen so far. Everything was rehearsed and choreographed, the lightning was awesome, each of the band members had a couple of dedicated lighting "boys" on the enormous stage setup and the sound was phenomenal. No matter where at the stadium you were, you could hear every detail. Considering the fact that The Edge gets his sound with precise delay timing (there are a couple doctor's dissertations written on The Edge's sound), that is a feat!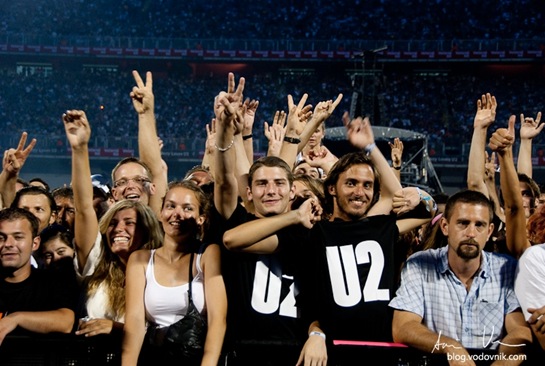 As far a photography goes, this is another one of those times where I felt "limited" by not having a long tele-photo lens like a 300 mm 2.8, or 400 mm 2.8. However, I don't have 12.000 USD lying around near by :-).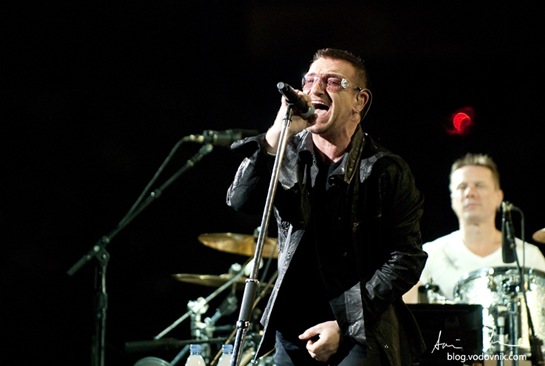 Being so far from stage obviously has its advantages and disadvantages, but not being able to really capture a close-up of some expressions is the major downfall.
One thing I found interesting though was the fact that all band members looked at me throughout the concert. I have all of them looking into my lens which made me think that they are "thought" to look at every photographer when they see their lens trained on them. This makes for a better picture in my opinion, and I think it shows what I meant by trained and rehearsed.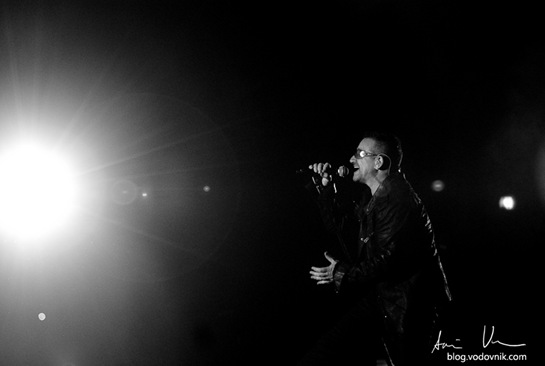 The lights were interesting, but no matter how much money they spend on special effects, lights and sounds, there's one thing they can never buy. The "effects" from the crowd. During the last song they asked everyone to bring out their cell-phone. That was beautiful. Roughly 30.000 people waving their phones around….
This was absolutely an experience worth remembering, but not the best concert I've seen.